Our Story
The initial motivation for Beowulf Industrial Sewing, grew from seeds of inspiration planted by a seized sewing machine found in the attic of a farmhouse. Founder Kurt Sandiforth, was determined to make the ancient machine function, and to learn to create things from it that he was struggling to find commercially. Sandiforth, an avid outdoor enthusiast and lover of things made by hand in the DIY fashion...nursed the little machine back into working order and began to teach himself to sew. It started with filling a need...a dedicated cyclist, Sandiforth began by creating bicycle bags for himself and friends out of a small room in his home. As his skill grew, so did the requests from his community for things such as; patio furniture covers, sail shades, auto upholstery, contract production and so on. Kurt soon realized that there was a real need for quality, industrial sewing offerings in his small, Northern California town. As a result, Beowulf Industrial Sewing was born.
What began as a hobby practiced in an upstairs bedroom, has grown into a full scale, custom sewing company shipping products all over the United States. While still located in the small foothills town of Grass Valley, CA...Beowulf's offerings have expanded to include custom yurt covers, seam welding, weatherized outdoor covers, upholstery repair, and so much more.
Kurt's selection of sewing machines has grown to include a fleet of industrial heavyweights...but the little found machine that ignited a business still has its place in the shop (albeit, on a self overlooking the thriving company that it helped to create).
Why Beowulf?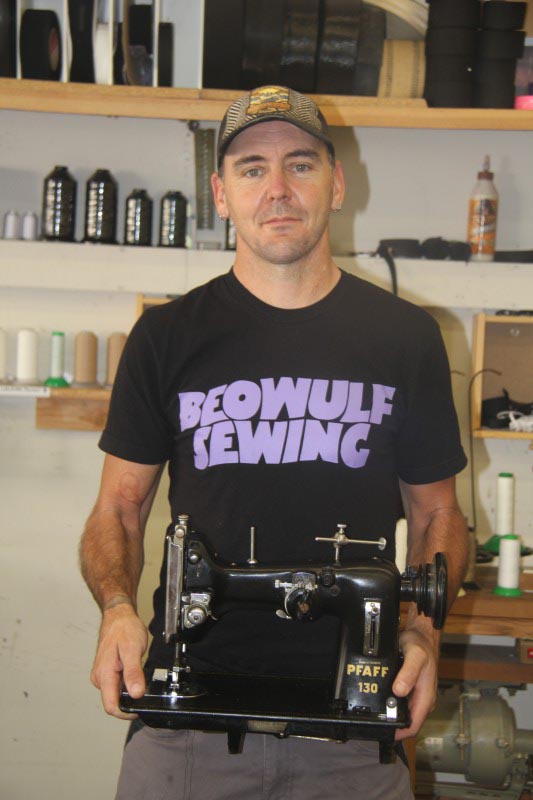 Naming a company is hard work. I wanted something that conveyed the strength and durability that is behind everything that we do, while also staying true to our unique beginnings and DIY background. The name Beowulf Industrial Sewing came to be after reading the ancient story to my son one night at bedtime. The story tells the tale of a warrior, who single handedly defeats a monster that was long thought unbeatable. Beowulf took on this quest because of his fierce loyalty to his village, and his undeniable strength and dedication to the task at hand. Those ethics are exactly what I wanted to build my business on. Offering my community and beyond strong, unbeatable, precisely made products with every meticulous stitch from our machines.The story of Beowulf is one of honor and seeing the job through, no matter how difficult the task. That is what we strive for each day, and what you can expect to receive once the job is done; a beautifully made product crafted to meet your vision and exceed your expectations.